Magnetic Drum Separator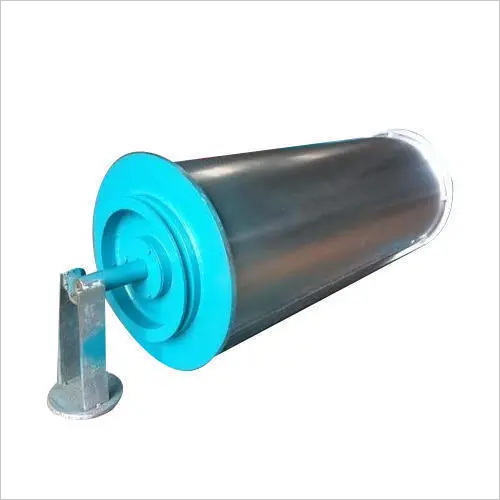 Magnetic Drum Separator
Price And Quantity
Product Specifications
Magnets

Temporary Magnets
Product Description
We, at Excel Magnetics take immense pride in introducing ourselves as one of the foremost manufacturers and Supplier of Magnetic Drum Separator. Our wide range of separator machine is fabricated using powerful ceramic magnet with strong connectivity procured from reliable vendors of the market. These separators are widely used for installing conveyor belts and vibratory feeders. Low maintenance, high on efficiency and rugged construction are some of the key features of our offered Permanent Magnetic Drum Separator.
Further Details:
Cost-effective
Operates on a 3-phase or single phase motor.
High efficiency
Low maintenance
The hopper has a regulator which allows the control the flow of the fall of material.
The reduction gear helps reduce the speed.
Technical Details:
Capacity : 1 - 2 ton/hour
Material : Stainless Steel
Driven Type : Electric
Voltage : 230 - 320 V
Products Application:
Use In Mining
Use For Mineral
Material processing
Domestic waste recycling plants
Use in Separate Food
In Pharmaceuticals
Used in Plastic manufacturing
Used in Glass manufacturing
Used For Ceramic handling
Followings are the main features of Magnetic Drums :
Developed for consistent separation and self cleaning. Perfect for high-stream, substantial tainting applications. It is available with Stainless steel drum and mellow steel or stainless steel lodgings
Most extreme Recovery of Ferrous Metals
Least Maintenance
They require least space and are easy to handle.
They are sufficiently adaptable to be connected for different purposes
Advantages:
Useful in expelling ferrous particles from any non ferrous powder and granules
Perfect for plastic, nourishment, compost, pharmaceutical, compound, glass and constant process plants
Give most extreme insurance to crushers, grinders, allied equipment and pulverizes
Can be utilized for mining and metal dressing industry
Wipe out flame perils and blasts in plants managing dangerous material.
Save time, labor and money by diminishing break down time and enhancing quality
Further Details:
Drum Type Magnetic Separator is used to automatically separate Magnetic Particles from bulk Material of different types and forms. This magnetic separator is designed in many models and sizes. One can avail it in Single, Double or Multi Stage Drum Separator form.
Single Drum Magnetic Separator
This kind of magnetic drum separator is provided with medium and high intensity magnet. It can be used in refractories, chemical and mineral industries. As the material to be cleaned passes through the magnet drum type Machine, it separates the contamination from the material. At the material outlet, os the high power permanent Magnetic Plate. Even An-Isotropic Permanent Magnet is used, which has highest magnetic strength. The machines have enclosed design and vibrating material inlet Hopper.
Double Drum Magnetic Separators
In Double Drum Type Magnetic Separator, as the name implies, the material passes through the magnet twice. Similar to single drum magnetic separator, there is high power permanent magnetic plate at material outlet. It has stationary permanent magnet, which can be either standard Ferrite Magnet or high power rare earth magnets in a non-magnetic SS drum. The route of product flow is diverted, so that it always fall onto the top and flows across the drum's surface. Ferrous matter in the flowing material is drawn to the drum's surface by the powerful magnet enclosed inside.
Multi Stage Drum Separator
One can avail triple & multi drum type magnetic separator in standard drum diameters of 300 mm-1200mm and width, ranging from 300mm-2500mm. One can request for other size and it will be made to their requirement. The larger sized magnetic separator can handle greater volume of material.
Iron contamination from the material can be removed using this separator. The material is passed over the first magnetic drum, through to the second magnetic drum and similarly to the third. This way, one can achieve highest purity of the material.
Construction:
The attractive drum separator comprises of a pivoting drum and stationary drum magnet are designed according to the particular needs of the client. The Drum separator is offered with drive framework and SS 304/316 lodging alongside food directing valve.
Working Principal and Magnetic System :
The permanent Magnetic Drum comprises of stationery lasting Magnetic gathering having uniform and everlasting Magnetic field over the whole width of the drum, which is powerful over roughly a large portion of the drum boundaries as appeared in fig.
Drum shell made of non magnetic stainless steel spins around the magnetic filed. As the material bolstered uniformly from the chute falls over the drum ,capable magnetic, field draws in and holds ferrous particles to the spinning shell. As the rotating shell brings the iron particles through the stationery magnetic field, the non magnetic material falls uninhibitedly from the shell while ferrous particles are immovably held until did past divider and of magnetic field.
The quality of the permanent magnetic drum is ensured to be more prominent than comparing electromagnetic Drum . The perpetual magnets utilized are everlasting magnets and its quality does not decrease amid typical utilize and can be utilized for the duration of the life of the installation.
Trade Information
As per standard

Australia North America Eastern Europe Middle East Africa Central America South America Western Europe Asia