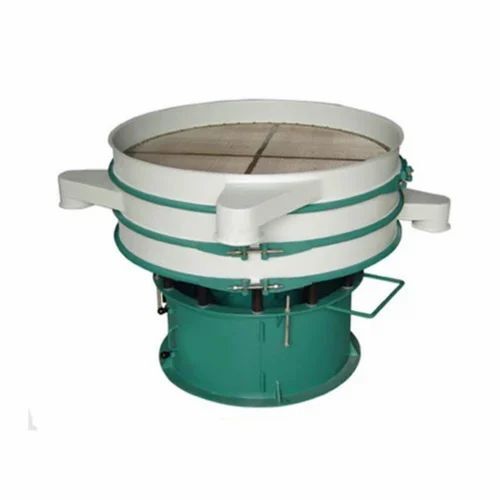 Gyro Sifter
Product Description
Owing to our consistent performance in the industrial magnetic industry, we have been able to carve a niche in the market and reckoned as one of the foremost manufacturers of Gyro Sifter. Our offered screens contain an electromagnet enclosed in a full enclosure to prevent from dust. These screens are generally used to grade materials into small particle sizes.Our offered Gyro Sifter is well accepted in the market for its attributes like rugged construction and impeccable performance.
Gyro Sifter is offered with the most advanced design of screens for grading of wet, fine and difficult to screen materials. The screens work on the principle of gyratory motion.

Fixed angle
Adjustable bracket arrangement
Screen's inclination: 15 to 20 Degree
Speed: 800 to 1200 R.P.M
Lengths: From 1200 to 600 mm
Widths in mm: 600, 800, 1000, 1200, 1400, 1600, 1800 and 2000
Number of decks: Up to four
Products Features:

High Operational Fluency
Compact Design
Energy Efficient
Longer Service Life
Excellent Performance
Low Maintenance
High Strength
Robustness
Dust Free
Noiseless Processing
In the course of bringing forward screens of highly advanced design, Gyro Sifter was founded. It can grade fine, wet and difficult to screen materials. Working on a principle of gyratory motion, this screen or sieve has high capacity, while it uses less power and minimum space. It is designed specially for multi-directional vibration system to prevent sleeves blinding. The material that has to be screened must be fed from the top. it gets collected from outlets of different decks. The materials which can be handled with this screen can be fine, course, wet, heavy or light. Gyro Screen can be developed in different sizes to suit individual requirement in Mild Steel and Stainless Steel construction.
The most effective screening method is Vibratory motion, which results in 100% rotary motion as well as dispersion stirring and stratification of bulk products to be sifted. The materials continuously flow in Horizontal motion on Gyro Sifter surface in a loop pattern. The Gyro Sifter provided by the company gives optimum screening & ensures maximum efficiency. The companies whose processes involves steps, like separation, sizing, and sorting, can use vibrating screen to size, separate and sort materials.
Also called vibrating sieves, these screens can be used in homes as well as industries, like cement, powder, spices, etc. Based on the type of product, the screen with correct mesh size must be selected.
The shapes in which it is available are huge flat, basket, curved, cylindrical, and irregular shape format. Depending upon the products to be separated, the size of sieve must be selected. Mesh size and gravitational force are the basic principles behind separation. The screens are tough, durable and corrosion resistant.
Trade Information
Ahemdabad

Cash in Advance (CID), Cheque
As per standard

All India